Program materials
Making New Moves Happen
New Moves is adaptable to any school schedule, from quarters to semesters. It can also be modified for younger students, for ideas on how to modify the program, click here. Sample schedules are available here.
Click on any of the boxes below to download New Moves materials. They can also be purchased here from PE Central. It is strongly recommended to start with the Teacher's Guide and Girl Pages, which provide lots of important and fun information to get you started. The Teacher's Guide includes an overview of New Moves, the program philosophy, lesson plans, maintenance activities, and much more! The Teacher's Guide is designed to work in tandem with the Girl Pages, the student textbook of New Moves. For sample pages from the Girl Pages, please click here. To view the Table of Contents for the Girl Pages, click here.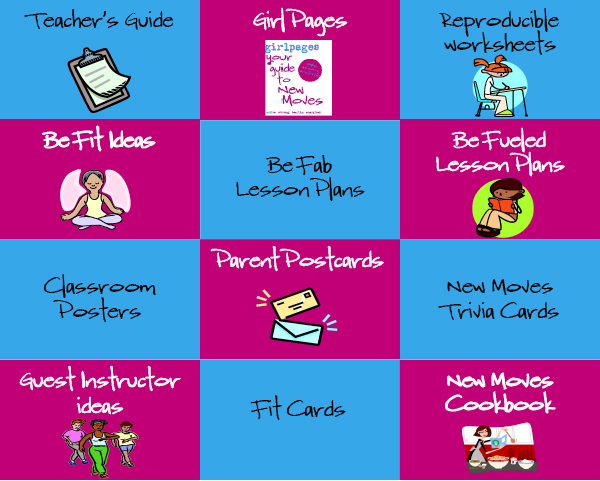 New Moves Class Overview
The New Moves class contains three educational components:
Be Fab: Eight classroom-based social support sessions. Includes topics such as stress management, goal setting, and body image.
Be Fueled: Eight classroom-based sessions focusing on nutrition topics such as eating breakfast, avoiding diets, drinking water, and increasing fruit and vegetable consumption.
Be Fit: The physical education portion of the program, which focuses on exposure to fun, lifetime physical activity.
Note: there are no lesson plans for the Be Fit section. However, covering the information in this section will enhance the girls' understanding of physical activity and exercise. Be Fit classes generally include strength training, guest instructors from the community, non-competitive activities, and lifestyle physical activity options such as walking and dancing. For sample class descriptions used in course guidebooks to explain New Moves, click here.
New Moves Maintenance
Post-class activities provide ongoing support and valuable opportunities to keep girls on track with their health goals. The Teacher's Guide provides ideas, lunch bunch lesson plans, individual session scripts, and materials for maintenance, and is available to download here. Maintenance includes weekly lunch bunches, individual sessions, and a parent event.
Evaluating New Moves
The New Moves study included many measurements designed to evaluate the program. For more information and to download materials that can be used to evaluate New Moves, see the Evaluation page here. For study publications, go to the publications link.